Most ankle sprains go away within a few days without any treatment.  But most people who are seen for serious ankle sprains have sprained their ankles before.  Although ankle sprains may seem innocent enough, there are several things that happen as a result of this injury that can lead to longer term problems.
3 Preventable Problems People Experience After Ankle Sprains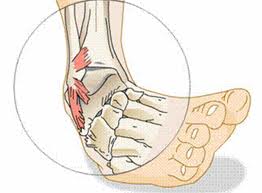 1.  In a traditional inversion ankle sprain, the outside of the ankle goes too far to the outside edge and the ligaments are partially torn.  This results in less stability of the ankle joint.  At the same time, the joint's ability to understand where it is in space is affected.  This loss of proprioception affects balance and makes the ankle more susceptible to suffering from future sprains.
2.  When the ankle becomes swollen after a sprain, the joint goes into a lose packed position.  The fluid from the swelling needs to go somewhere, and this position gives the joint space to accommodate the increase in fluid.  In the ankle, this position is slightly pointed and slightly toed in.  Unfortunately, the ankle often becomes stiff in the position and ankle dorsiflexion and eversion motion is lost.  These two directions are crucial for the body to advance over the foot and are essential for normal walking and running.  If you don't have sufficient motion, your body will accommodate which often leads to secondary injuries such as plantar fasciitis, metatarsalia, or even ankle arthritis.
3.  Left untreated, ankle sprains can keep you from the activities you love.  It's unfortunate because even after a moderate sprain, most athletes can return to sport within 2 weeks with proper treatment.  If you aren't involved in sports that require a high level of balance and agility, time away from sports activities can be even shorter.
A Simple Solution
Treatment for most sprained ankles is relatively quick and simple.  The goals are to normalize motion, strength, and balance in the ankle.  This can usually be achieved in as little as 2-3 sessions, even if you are having trouble walking normally.  If you are having pain or limitations after an ankle sprain, call us to find out if you are a candidate for one of our programs at      888-713-2220.