TMJ pain, temporomandibular joint pain, is pain located in the hinge joint that allows the jaw to open, close and move side to side.  It can be easily felt just in front of the ears when you open and close your mouth.  Except in the case of trauma to the head or jaw, the cause of TMJ pain not often clear.  TMJ pain is often associated with popping or clicking noises as you open and close your mouth, and in some cases the jaw can become locked either in the open or shut position.  Often temporomandibular joint pain occurs with headaches and neck pain.  Unfortunately, it's hard to rest the TMJ.  The jaw moves almost constantly; chewing,  talking, and any other time you close or open your mouth.  Some people even move their jaws while they sleep as in snoring or grinding their teeth.  The good news is that there are some tips that you can do right away to start easing your TMJ pain.
The Top 5 Tips For Fast TMJ Pain Relief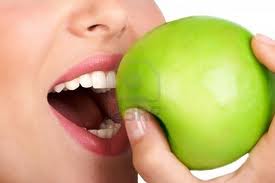 1.  Avoid taking large bites of food, such biting into a whole apple.  Cut up the pieces to decrease the strain to your jaw.  Also, yawn carefully to avoid overextending your jaw and aggravating your TMJ pain.
2.  Cold packs or moist heat can often help relieve pain.
3.  If you grind your teeth in your sleep, see if your dentist can make a night splint.  A night splint can help prevent you from grinding your teeth and decrease the strain to your TMJ.
4.  Eat carefully, avoiding hard or crunchy foods.  Try softer foods that allow the temporomandibular joint to rest.  Also, don't chew gum.
5.  Watch your posture.  When you sit in a slumped position or spend a lot of time in front of a computer, your head often protrudes forward.  This pokey head posture changes the position of the muscles of mastication, or chewing muscles, creating abnormal stresses to the jaw.  Sitting up straight can take the stress off your neck and shoulder muscles as well as help the jaw muscles move more effectively.
Other Options
TMJ pain that is severe or is associated with popping or locking is a sign that you need to take action.  Physical therapist who specialize in TMJ disorders can assess the joints and muscles of the temporomandibular joint and help find solutions to ease your pain.  In some cases, underlying neck issues can contribute to this pain, so a thorough assessment should include a taking a detailed history, screening for cervical spine dysfunction and assessing the function of the chewing and swallowing muscles.  If you have specific questions regarding TMJ pain, contact us to speak with one of our TMJ specialists.